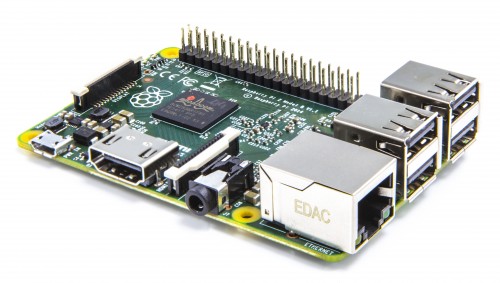 The Raspberry Pi is a series of credit small-sized single-board computers developed by the
Raspberry Pi Foundation
.
A new budget-priced Raspberry Pi computer has been unveiled, offering a faster processor (900MHz quad-core) and more memory (1 gigabyte of RAM) at about the same price . Previous versions of the kit have been widely adopted by schools and enthusiasts across the world.
Lately Pi faces increased competition.
Another UK-based firm, Imagination, recently released a bare-bones computer of its own, and the Arduino, Intel Galileo, Gizmo 2, BeagleBone Black and Hummingboard also form part of a growing list of rivals.
The Raspberry Pi 2 makes two major changes to the previous version, while leaving other components unchanged:
The CPU is now quad-core rather than single-core. That means it can be programmed to use more of its cores to offer extra computing power, or made to use fewer to help save power consumption - useful if running as part of a battery-powered contraption. In addition, the Cortex A7 processor now runs at 900MHz rather than 700MHz
The board now features one gigabyte of RAM memory, double the amount that was previously included
As before, owners will need to add their own keyboard, a MicroSD card containing a copy of an operating system, and television/monitor-connecting cables in order to start programming. Enclosures bought for the previous Model B+ computers will also fit the new one.
It can be used as a PC for surfing the web, watching videos, playing games and of course programming.
The Raspberry Pi 2 can run a variety of Linux-based systems out-of-the-box, but its makers have also promised it will be able to support Microsoft's next operating system (Windows10) at a later date at no extra cost.
CNET.com video introduction to Raspberry Pi 2:
More details and Raspberry Pi projects: